What is the Difference Between Sunrider TOP FOCUS and Sunrider TOP Original?
FIRST - let me say.... BOTH work Amazingly Well supporting Excellent Brain Health
***********************************************************************************
Sunrider TOP FOCUS
1. Developed by Dr. Reuben Chen (son of Dr. Tei Fu Chen) for his own personal needs
2. Released for all Sunrider Customers worldwide in September 2019.
3. Dramatic, working on the Brain's Neurotransmitters. Fuels Multiple Neural Pathways.


NOTE:
Four neurotransmitters come under the chemical classification of biogenic amines. These are
epinephrine, norepinephrine, dopamine, and serotonin
.
NOTE:
Your brain and body need
dopamine, serotonin, oxytocin, and endorphins
to feel good, but we're not taught a lot in school about how to boost production of those good brain chemicals.
4. Feel effects within 15 minutes, lasts for 4 hours.
5. Sunrider TOP Focus comes in bottles of 40 capsules
6. Don't use it in the evening. Your brain may be too active to sleep!
7. TOP FOCUS Ingredients include:
A traditional Chinese herb that contains huperzine A, a naturally occurring alkaloid that may benefit cognitive function.
This plant contains high levels of flavonoids and terpenoids, compounds known for their strong antioxidant effects, which may include neuroprotective benefits.
This natural choline compound, L-Alpha Glycerylphosphorylcholine, supports the release of the neurotransmitter acetylcholine, which has been shown to support learning, focus, and memory.*
VITAMIN B9 (FOLATE) & VITAMIN B12
Folate is believed to slow age-related cognitive and memory decline while vitamin B12 helps in the production of neurotransmitters, which relay messages in the nervous system and brain.*
Phosphatidylserine is a phospholipid that covers and protects the cells in your brain and carries messages between them. It plays an important role in keeping your mind and memory sharp.*
BENEFITS
• Supports focus, mental clarity, and memory
• Promotes confidence and calm alertness
• Fast-acting––feel sharper in 15 minutes
• Natural ingredients, with no added stimulants
• Crash-free, jitter-free, non-habit forming
*************************************************************************************
Sunrider TOP ORIGINAL
1. Developed by Dr. Tei Fu Chen, Founder of Sunrder International and Master Herbalist
2. Available worldwide since the 1980s, used daily by thousands of happy Sunriders!
3. Subtle, working on the Brain and Nervous System.
NOTE: The Central Nervous System includes the Brain and Spinal Cord.

4. Feel effects, but more subtle than TOP FOCUS. Children have used this formula for decades.
5. Sunrider TOP Original comes in bottles of 100 capsules
6. Can use any time, day or night
7. TOP Original Ingredients include:
ANGELICA ROOT This perennial herb is used in Traditional Chinese Medicine to address a wide range of conditions, including to treat headaches, relieve stress, and to support circulation.
JAPANESE HONEYSUCKLE FLOWER This fragrant flower has been vital to Traditional Chinese Medicine practices for centuries. Its uses include treating various inflammatory conditions.

VALERIAN ROOT The root from this herb contains several compounds, including a variety of antioxidants that are believed to reduce anxiety and promote calm.

WHITE WILLOW BARK The inner bark of the white willow tree contains salicin, which turns into salicylic acid in the body. The pain-relieving compound in aspirin, acetylsalicylic acid, is derived from salicylic acid
BENEFITS
• Promotes mental clarity and focus
• Supports emotional balance and well-being
• Made with natural ingredients
• Non-habit forming
• No chemicals, hormones, or added stimulants
****************************************************************************************************************
SUNRIDER TOP - Brain Food, Clear Thinking
TOP (Original) for Laser Beam Thinking
NOTE: Diana Walker published these details below in 2010... and they still apply today in the 2020s.
More information here: http://diana1.com/top-joi-ese-sunrider/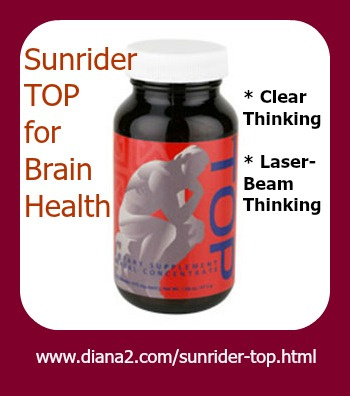 TOP – Nervous System Formula #3 (along with JOI and ESE)

1.

Ingredients

Mint Herb, Honeysuckle Flower, Chinese Lovage, Yeuan Wu Root, Angelica Root, Golden Bell Fruit, Ji Tsau Herb, White Willow Bark

2.

Description

TOP contains nourishing herbs to help maintain mental and emotional balance. TOP especially nourishes the occipital part of the brain.

3.

Suggested Amounts

TOP is very powerful. 1 to 2 capsules at a time is often sufficient. Complements JOI and ESE.

4.

Summary of Benefits: - Focus on Sleep and Mental Clarity

· Improved Mental Clarity and Brain Function

· Nourishes the production of Endorphins

· Helps balance the Brain Chemistry

· Promotes Calmness

· Reduces pain

· Relieves migraine headaches

· Helps clear sinus congestion

· Helps replace drug needs for pain

5.

The "JET" Set – JOI, ESE, TOP

These 3 nervous system formulas descend from ancient formulas designed to enhance powers of concentration. When eaten in conjunction with Sunrider's basic food program, the JOI, ESE and TOP help to balance us more mentally, and spiritually, to be more in harmony with those around us and with nature. These herbal formulas are a unique blend of herb foods, which the Chinese have traditionally eaten to enhance an overall sense of well-being. These formulas feed processes related to focus and concentration. Focus and concentration come from the property we might call mental stillness, which essentially barricades us against things that might otherwise disturb and distract us, like pain. A still and focused mind lets us concentrate keenly during periods of activity, yet sleep peacefully during periods of rest.
More information here:
http://diana1.com/top-joi-ese-sunrider/
BUY TOP FOCUS IN USA HERE:
WHERE TO BUY SUNRIDER PRODUCTS IN USA AND CANADA
Return to A-Z Sunrider Products
Return to Diana's Healthy Lifestyles
These statements have not been evaluated by the FDA. This information is provided for nutrition purposes only. It is not intended to diagnose, prescribe or imply treatment. If you have a medical condition, consult a physician.